Voicent Platform
For Interactive Voice, Text Message, Business Process and Email
The Voicent Platform is an integrated set of technologies that provide everything you need to create or enable your applications with interactive voice, text message, and email capabilities.
Even though the Voicent Platform is a complex and complete system, the platform provides incredibly simple and powerful APIs and GUI tools for fast application development. These API's are based on open standards, such as W3C's HTTP, SMTP, and VoiceXML protocol, so you should be able to get started right away, using familiar technologies and your favorite programming languages.
The platform architecture and components are illustrated in the following figure. Click to see an enlarged version.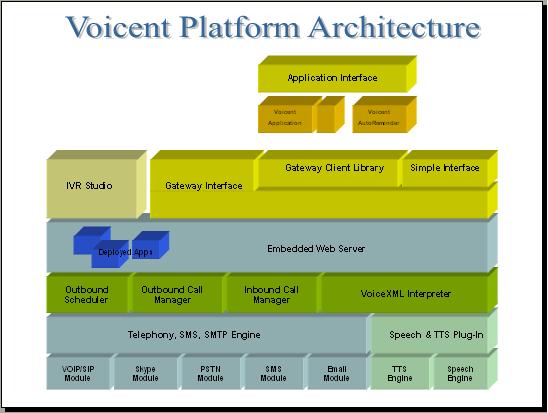 Which API To Use?
Without going into too much detail of each API, you can use the following basic guidelines.
Use gateway simple interface if you just need to make a simple voice call or send a text message.
Use application interface if you need to use some of the features provided in a Voicent application. You can save a lot of time if you leverage what is already there. For example, by using BroadcastByPhone's command line interface, you do not need to implement your own call list management and message personalization features; or by using AutoReminder's HTTP interface, you can utilize the tool's full call scheduling and confirmation capabilities.
Use gateway GUI interface if you need to create applications that contains complex and dynamic call messages, such as automated interactive system that needs real time inquery to your CRM database. The GUI interface is provided by Voicent IVR Studio.
Use gateway interface if you need complete control of the application and call message, such as dynamically generated VoiceXML code. This interface is the low level programming interface and requires more background knowledge in XML, web server, HTTP, JSP, etc. But if you are already familiar with dynamic web content development, this interface should be pretty simple for you to use.
The above are simple guide lines, however, you man need to know more about these interfaces before making a better choice. For example, you may choose the gateway interface in order to send personalized call messages. But to personalize a call message, you not not necessarily require a dynamically generated VoiceXML code. Voicent applications such as BroadcastByPhone and AutoReminder already have the capability through our Message Designer and message parameterization. So the best choice for you may be the application interface. If you need help deciding, please feel free to contact Voicent support.