Gateway Tutorial: Download EmailToPhone
Download
Install
Unzip the downloaded zip file and extract it to a folder.
Click Voicent Gateway icon to open it, select Application > Setup Application… from the program main menu. Click the Install button, click the Browse button, the find the folder that EmailToPhone is extracted, choose the conf folder, then select the email.conf file, click OK.
After you install the EmailToPhone application, you can invoke the setup page from the Application main menu. It might take a few seconds to show the setup page the first time you invoke it.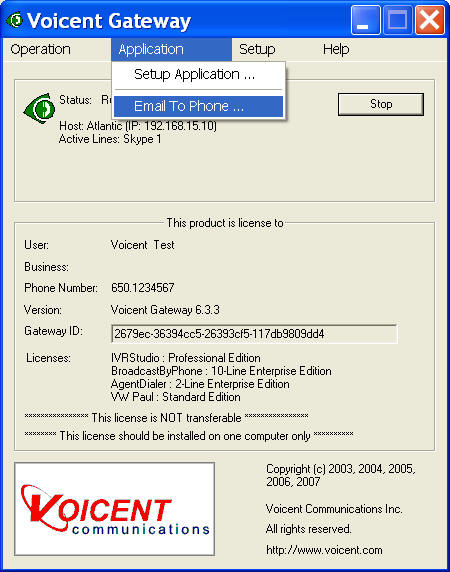 Configure
The main EmailToPhone page is shown in the overview section. Click the Setup link to set up your email account for both outgoing email and incoming emails. EmailToPhone supports SMTP for outgoing email and POP3 and IMAP for incoming emails. The settings should be similar to settings for other email client programs, like Microsoft Outlook. You can normally get the email settings from your ISP or IT department.
The following example is for Gmail. You can find Gmail settings from your Gmail account.
Incoming Mail Server:
pop.gmail.com, port 995, SSL
Outgoing Mail Server:
smtp.gmail.com, port 465, SSL, user authentication
The following is an example for setting up email alert.