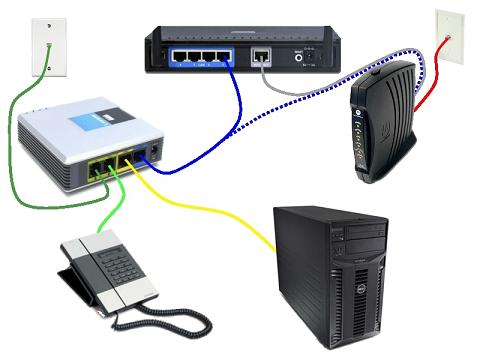 Step 1: Connect Network Cable
Disconnect the network cable from your computer and connect it to your SPA3102's INTERNET port.

Step 2: Connect Ethernet Cable
Take the Ethernet network cable included with your SPA3102 and connect one end to the SPA3102's ETHERNET port. Connect the other end to your computer's network port (the one you disconnected the network cable from in step 1).
Step 3: Connect the Phone Cable
Connect the RJ-11 phone cable included with your SPA3102 to the SPA3012's LINE port. Connect the other end to your telephone jack (wall jack, MagicJack, Ooma, Vonage adapter, etc)
Step 4: Connect Analog Telephone
(Optionally) Connect an analog telephone to your SPA3102's PHONE port using a separate RJ-11 phone cable.
Step 5: Attach Power Adapter
Connect the included power adapter to your SPA3102's power port and plug the power adapter to an electric power outlet.
Step 6: Connection Test
Check your connection. Once the unit is powered on, your computer should regain its network connection. Open a browser and make sure you can still get on the internet.
If you connected a regular telephone in step 4, you should be able to use it to make and receive phone calls.