Design Your Survey
If your survey does not require interfacing with other systems in real time, such as accessing backend databases, it can be created easily. For more advanced survey, you will need to use Voicent's IVR Studio tool.
Design Simple Survey
The survey app designer can be accessed from the main menu under Setup, Apps, Survey.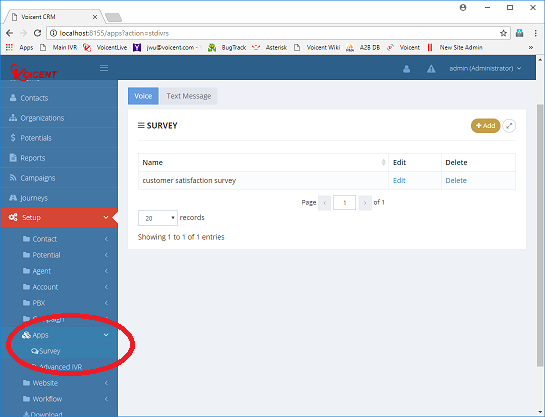 For more info on designing survey apps, please see the following knowledge base articles
Design Advanced Survey
Voicent IVR Studio is also a developer tool. Use it to develop your interactive (voice and text message) applications that utilize your database, website, and other programs. For more details, please see the developer section of this website.
To learn more about the IVR tool, please see Voicent IVR Tutorial. You can also start with the knowledge base article: Sample IVR Phone Survey.
We also offer complete custom project development. Please contact our sales for a quote.