An IVR application is defined by a call flow diagram, which is similar to a user instruction manual for a voicemail system. A call flow diagram is composed of many elements and transitions between elements.
Elements And Transitions
The following elements are supported:
Choice Element

: to choose from a menu by a touch tone key, such as press 1 for sales, press 2 for support, press 0 for operator

Speech Element

: to choose from a menu by speech command, such as say 'sales' for sales department

Digits Element

: to collect a sequence of touch tone keys ended by the # key, such as a credit card number or account number

Call Transfer Element

:

Record Element

: to record what caller says

Prompt Element

: to play audio or text-to-speech voice over the phone

Goto Element

: jump to a different element
The following call flow diagram defines a simple auto attendant IVR application: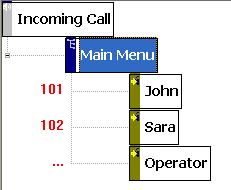 More samples are available in theIVR Design Library.