How to use list management feature for BroadcastByEmail

Starting from release 3.2, you can use the list management feature for your email list. No more copy-paste back and forth your list from and to a spreadsheet program. The list management features include the following:
Sort list by name, email address, or status

Clean list by removing rows with duplicate emails, or failed status

Exclude list by running against an exclusion file
To access the list management feature, simply select the List menu from your program main menu.
Select List > Sort... from the main menu, you should get this dialog.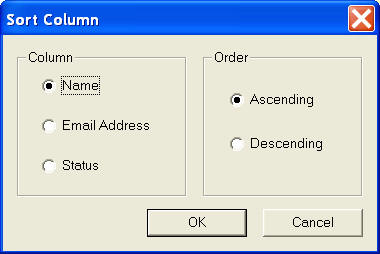 Choose Name, Email Address, or Status for sorting in ascending order or descending order.
This feature is useful in multiple ways. For example, if you want to email everyone on your list that your previous broadcasting failed to reach, you can sort your broadcast file according to the status, select all the rows with the failed status column, and then press the Delete key. Save the email list file and start another broadcast. The program should only email the addresses in the rows without status.
Clean Email List
You can clean up your email list by removing rows with duplicate email address , failed status, or empty email address. Just select List > Clean... from the main menu.
Email list exclusion
You can run an exclusion check against an email list file. Select List > Exclude List... from the program main menu. In the popup window, select the exclusion file by clicking the browse button. Click OK. The program removes any row with its email address appears in the exclusion file. The exclusion file should contain a list of email addresses. Each email address should be in a separate line.