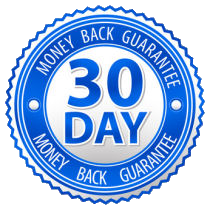 Advantages of Voicent's
Flex PBX

One time purchase, use forever
No monthly fee, no contract
Setup in less than 10 minutes
Works on any PC
Works with your own texting plan
Feature rich and yet easy to use
You can try it before you buy it

Find out more
Learn More

What is a PBX?
A private branch exchange (PBX) is a telephone exchange for a particular business. A PBX system connects incoming telephone lines to a set of extensions inside a business.
What is VOIP or IP PBX?
VOIP PBX or IP is a PBX system that can handle calls on an IP network. It supports outbound connection to a SIP trunk or regular trunk; it also supports IP extensions. Most VOIP services provide regular telephone numbers to allow calls from landline or cell phones. The person who calls these numbers usually cannot tell the difference whether the call is make to a VOIP service or traditional PSTN service.
What is Voicent's Flex PBX?
Flex PBX is an affordable and easy to use auto attendant software system. Because it is a software package, it offers flexible configuration and unlimited design capability. It has all the features a traditional PBX plus much more.
What is an Auto Attendant?
Also known as a Virtual Receptionist, it allows callers to be automatically transferred to an extension without the intervention of a live operator. Typically the Auto Attendant is included in a businesses phone system.
What is an IVR Menu?
A phone system menu that interacts with humans through the use of voice and DTMF keypad inputs. Auto attendant is a special kind IVR, where the target operation is the transfer of a call to an extension. IVR can be more broadly defined. It can interact with a database to supply requested information such as account balances, etc.
Overview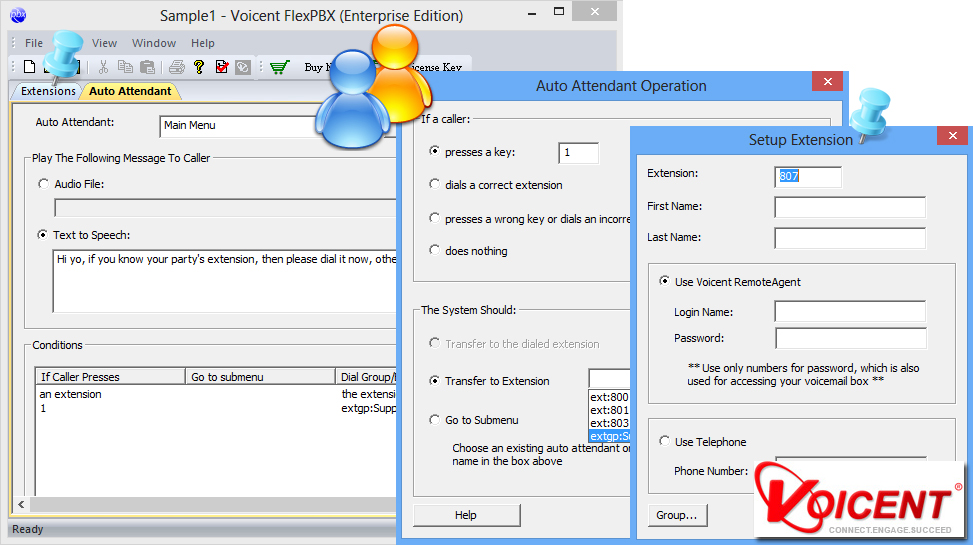 Flex PBX is a full-featured, software-based PBX system that includes auto attendant, screened-call forwarding, call queuing, music on hold, personalized greetings, flexible extensions and voice-mail boxes, multi-lingual voice prompts, and much more. It supports VoIP/SIP, Skype, and regular phone lines. It is ideal for businesses that handle many daily incoming calls.
Flex PBX is affordable and easy to use. Because it is a software package, it offers flexible configuration and unlimited design capability. It has all the features of a traditional, plus much more.
Flex PBX enables even small businesses to have sophisticated phone systems that increase their credibility and the confidence of clients and prospective clients.
Voicent's Flex PBX is a one time purchase only. There is no setup fee, no monthly recurring bills and no usage limit. No expensive hardware is required. The entire system runs on your computer and Internet connection.
How does it work?
This Windows-based software uses VOIP technology to make and receive calls through your computer. The calls are delivered either through a VOIP channel, such as SIP or Skype, or through your regular phone lines. The software acts as a complete business phone system.
When a caller calls your telephone number:
Flex PBX system automatically answers the call and presents the caller with a welcome message and a list of menu choices. You can design the menu choices any way you want.
The caller can press a key to listen to company information such as driving directions or office hours, or to be transferred to the sales department.
The caller can enter an extension number directly to ring a company extension.
Users of an extension can make an outbound call through the shared Flex PBX lines.
This PBX software is great for:
Saving money by having the PBX system's auto attendant answer your incoming calls.
Present your callers with a professional image with music onhold and professional greetings.
Saving money by sharing phone lines among extensions for outbound calls
Providing voice mail for each extension with almost unlimited storage size
Key Features Of This Flex PBX Software:
Easy Point-and-click custom PBX system design and configuration
No special hardware needed, just your computer an Internet connection
Extension can be an extenal phone number (automatically forward calls to that number)
Extension can be a soft phone (Voicent RemoteAgent software) running on a computer located any where..
Multiple levels of auto attendant (virtual receptionist)
Displays calls in waiting queue
Voice mail for each extension
Access voice mail by phone or by desktop software
Onhold music during call waiting
Customized greetings by day and night, weekday or weekend
Fully integrated with text-to-speech (needs TTS Plug-In)
Fully integrated with Voicent IVR Studio for more powerful customizations
Unlimited call waiting queue (enterprise version)
What do I need to use Flex PBX?
A desktop or laptop computer with Windows 2000/2003/XP/2008/Vista/Windows 7 operating system.
A phone service: could be a VOIP/internet phone service, a PBX system with SIP extensions, or a traditional analog phone line (requires voice modem and XP operating system)
Next Step
It's absolutely free to download and try Voicent's Flex PBX software. You don't need a credit card or even to supply an email address to try it.
IP PBX System for Business