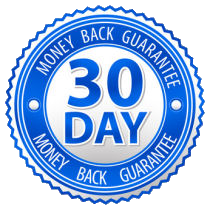 Advantages of Voicent's

One time purchase, use forever
No monthly fee, no contract
Easy setup in less than 10 minutes
Works on any PC
Works with VOIP, PBX, phone line
Feature rich and yet easy to use
You can try it before you buy it

Find out more
Learn More

We do manual appointment reminders, why is this better?
Automated appointment reminders are more reliable because there is less chance of human error. Also, automation frees your staff of hours spent tracking appointments, dialing phones, waiting for answers, and leaving messages. Those hours can now be spent doing more important work.
Can appointments be confirmed using AutoReminder?
Yes, when a live person answers, they can press a key to automatically confirm their appointment.
Can the system be used as an appointment scheduler?
Yes, AutoReminder appointment reminder software includes an intuitive calendar for appointment setting and re-scheduling. No extra steps are needed to schedule a reminder call when you schedule an appointment. The software will automatically schedule the reminder call.
Can I personalize messages?
Yes, AutoReminder software includes a Message Designer for message personalization. For example, with Text to Speech, the autodialer can play "Hi Bob, ..." for Bob and "Hi Mary, ..." for Mary, making your call more personal and more effective.
Auto Reminder Overview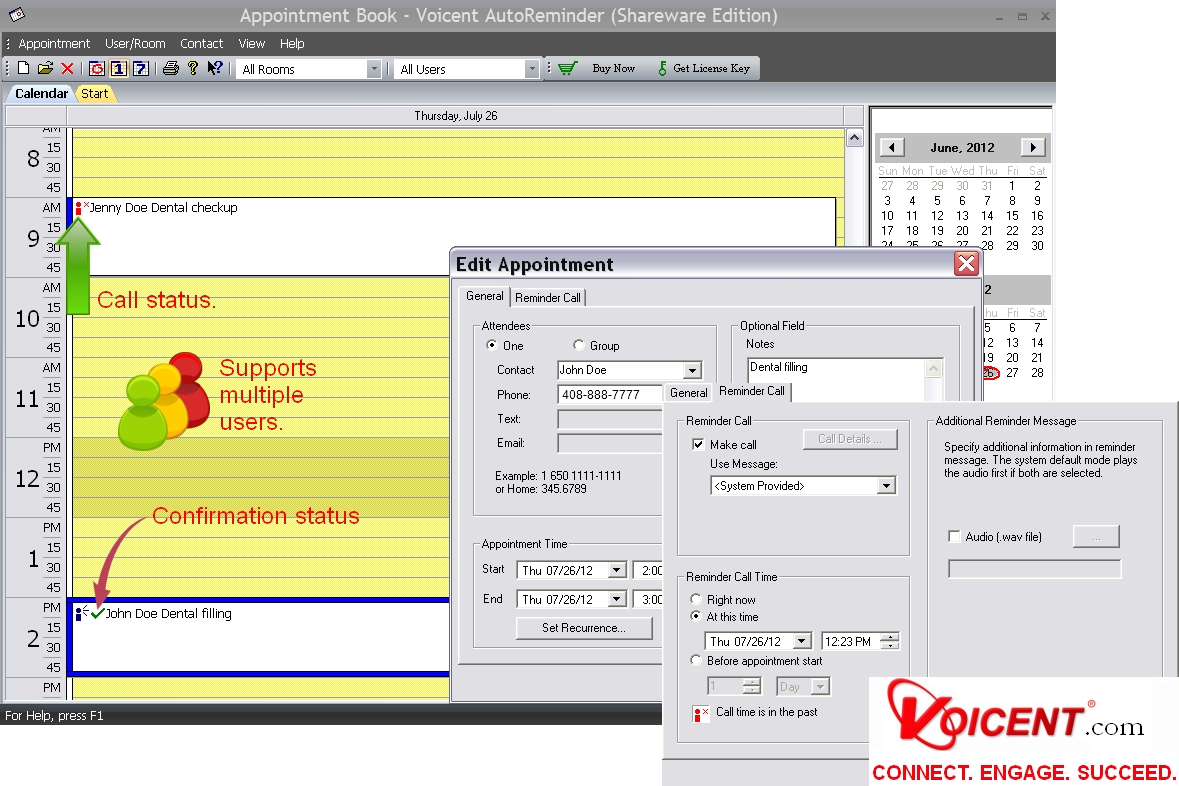 Voicent's AutoReminder software is an automated appointment scheduling and reminder system that delivers personalized messages to any phone. When a reminder call is made, Voicent AutoReminder allows the recipient to confirm, reschedule, leave a personal message or even be transferred to your office simply by pressing a number on their phone keypad.
Auto Reminder helps you to manage customer appointments and improves customer satisfaction. It saves time and money, reduces no-shows and improves your bottom line.
With a built-in calendar and scheduling system, it can deliver personalized messages to individuals at any time of the day, evening or even weekends. Designed with our easy-to-use Windows-based user interface, AutoReminder offers flexible integration with any existing office management software.
Voicent's Auto Reminder software is an incredibly affordable communication tool. You buy it once and own it for life. There are no additional monthly or per-call fees to pay.
This auto reminder is great for
Appointment Confirmations
Pick-up & Delivery notifications
Payment Reminder Notifications
Benefits of our Auto Reminder
No per call, per text, or per email fees
Saves time and labor costs
Substantially reduces wasted office hours
Substantially reduces appointment no-shows
Frees your staff of repetitive work and allows them to focus on more important duties
Improves info sharing and access among offices, doctors, and receptionists
How does it work?
This Windows-based software can use your computer to make calls through a VOIP phone service, such as SIP or Skype, or through your regular phone lines.
To setup a reminder call:
Create or import appointments in Auto Reminder Calendar window.
Optionally change the default reminder call time.
That's it! Reminder Call will be made automatically. (Sample Reminder Message)
After the call is made, AutoReminder displays the call status and confirmation status in the calendar window. If there is a voice message, you can simply click to listen.
Key Features Of This Appointment Reminder Software:
Places automatic, personalized reminder calls -- no human intervention needed
Places automatic, personalized reminder text messages -- no human intervention needed (Requires Text Message Add-On)
Places automatic, personalized reminder emails -- no human intervention needed (Requires Email Add-On)
Easy to use - Windows-based calendar interface for appointment scheduling
Built-in calendar with easy drag-drop to reschedule appointments
Easy confirmation symbol for appointment confirmation status
Delivers different messages for answering machine and for live pickup
Professional, friendly reminder message
Multi-lingual option (TTS Plug-in required)
Color-coded, multi-user scheduling
Real-time call status report
Can do reminders for recurring appointments
Provides client contact management
Supports multiple group calling feature
Easy data import/export
Easy Integration with any Windows-based software (For Developers)
Allows multiple users sharing same appointment information (Enterprise Edition)
Create and access appointment scheduler from any office or home (Enterprise Edition)
Extensive command line interface (For Developers)
Extensive HTTP/web interface (For Developers)
Next Step
It's absolutely free to download and try Voicent's appointment reminder software. You don't need a credit card or even to supply an email address to try it.
Appointment Reminder By Phone, Text Message, And Email