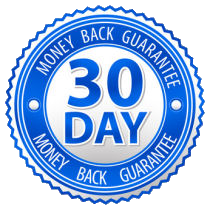 Advantages of Voicent's
Call Center Software

One time purchase, use forever
No monthly fee, no contract
Easy setup in less than 10 minutes
Works on any PC
Works with VOIP and PBX
Feature rich and yet easy to use
You can try it before you buy it

Learn More
Call Center Software
Overview
Call Center software for smart call center management
Get everything you need to manage your Call Center's performance, cost-efficiency and regulatory compliance--all in one affordable, easy to use software application.
Voicent's Call Center Manager:
Provides real-time and historical tracking and reporting of agent performance and availability, campaign performance and productivity, line and resource usage.

Enables automated compliance with U.S. Federal Trade Commission's Telemarketing Sales Rule on intentionally Abandoned or Dropped Calls. Don't risk penalties of up to $16,000 per incident!

Speeds effective training and management of agents with easy call monitoring, call recording and "whisper coaching" feature allowing live-call coaching that is inaudible to customers.

Offers optional Rules Engine for fine, automated control of Call Distribution (ACD), message selection, caller ID designations, agent assignments and much more.

Works seamlessly with Voicent's Agent Dialer predictive dialer, BroadcastByPhone auto-dialer, Call Center CRM Customer Relationship Management, and IVR Studio Interactive Voice Response applications.

Automates business process by a workflow engine that is tightly integrated with voice, text message, email, and web communications.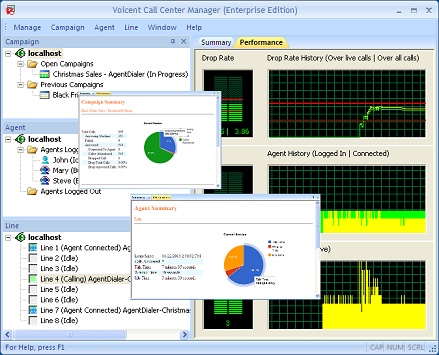 what is it and what does it do?
Voicent's Call Center Manager is a powerful software tool for measuring and managing Call Centers. Use it to:
Manage Agent Performance Quality
Easy call monitoring and recording, "whisper coaching" capability enables live-call agent coaching and training that is inaudible to customers; real-time and historical reporting of activity and availability.
Comply with Federal Telemarketing Rules
Automatically track and adjust Call Drop threshholds and dialing pace to comply with U.S. Federal Trade Commission's Telemarketing Sales Rule on Dropped Calls. Avoid $16,000 per-incident fines!

Statistical reporting meets FTC "Safe Harbor" requirement for collecting and maintaining dropped-call reports, providing protection from prosecution for occasional, accidental rule violations.
Understand Campaign Performance Quality
Track real-time and summary stats for call volume, line usage, agent and campaign performance.
Enforces and Automates Business Process
Follow up with customers, enforce purchase requisition process, and automate any company wide workflow activities.
Call Center manager is great for
Automatically measuring and adjusting the pace of outbound calls, ensuring that Agent efficiency is maximized while the FTC's strict limitations on Dropped and Abandoned-Call rates are honored.
Allowing quick and easy call monitoring, recording and live-call "whisper coaching" to provide fast and highly effective training and supervisory feedback for new agents.
Tracking, collecting and statistical reporting of call volume, line usage, dropped-call rates, current and historical campaign performance, agent performance, availability andf effectiveness.
Key Features Of This call center management Software
Works seamlessly with Voicent's Agent Dialer predictive dialer, BroadcastByPhone auto-dialer and Interactive Voice Response (IVR) applications.
Provides compliance for FTC's Dropped-Call thresholds and "Safe Harbor" documentation requirements.
Auto pacing of outbound call volume based on available agents, current drop rate, and campaign statistics.
Live agent conversation recording, monitoring and "whisper coaching" that is inaudible to customers.
Phone line usage monitoring.
Easy to use - download and setup Call Center Manager in less than 20 minutes.
What do I need to use call center manager?
A desktop or laptop computer with Windows 2000/2003/XP/2008/Vista/Windows 7 operating system.
Voicent Agent Dialer predictive dialing software, and/or BroadcastByPhone auto-dialer software.
how to use call center manager
Simply install the Call Center Manager software and connect it to the server, desktop or laptop computer that is running Voicent predictive dialing or auto dialing campaigns (yes, it can be the same machine).
From the Call Center Manager program window, you can:
Set and enforce dropped-call rate threshold
Select an agent or phone line to monitor
See and document real-time agent and campaign performance statistics
Add-On
Voicent's Call Center Rules Engine is an optional add-on tool for Call Center Manager. It enables you to easily control your Call Center for maximum efficiency and profitability. With the Rules Engine you can:
Create and manage Automatic Call Distribution plans (ACD)
Match messages, Caller IDs, agents and campaigns for maximum productivity and efficiency
Direct resource usage for maximum efficiency
Specify agents for specific callers and call types and much more
next step
It's absolutely free to download and try Voicent's Call Center Manager software. You don't need a credit card or even to supply an email address to try it.
Auto Dialer