If the above limitations do not apply to you, then you can setup Voicent software to use Skype soft phone for making and receiving phone calls. The following are the basic steps:
Configure Voicent Software To Use Skype Soft Phone
Sign up a for a Unlimited US & Canada Skype Account
Download and install Skype Soft Phone release 3.8. Please note it does not work on Windows 7. You must use Skype Connect if you have Windows 7.
Configure Voicent Gateway to Use Skype Soft Phone
Select Setup > Options > Skype from Voicent Gateway main menu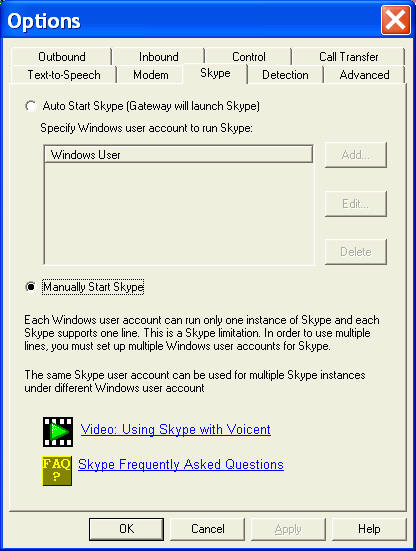 There are two modes you can start Skype with Voicent.

1. Manual Mode

Start Skype programs manually and have Voicent connect to them. To connect to running Skype instances, click on the Stop/Start button to restart the gateway.

2. Auto Mode

Click the Add button to specify the Windows user account to run Skype. If you need to run multiple lines, you must specify multiple user accounts.

Video: Use Skype Soft Phone with Voicent