Voicent BroadcastByPhone Enterprise Edition offers the ultimate scalability, reliability, and flexibility for large scale message broadcasting. When VOIP is used, the system can handle up to 100 simultaneous calls on a single computer. As faster computers come out, the scalability will improve further.
You can also set up a group of computers to do massive voice broadcasting campaigns using enterprise editions. Your broadcast messages are sent out simultaneously from a group of networked computers, possibly from different geographical locations. Controlled from a central location, the system automatically dispatches phone calls to different dialing computers based on area code preferences.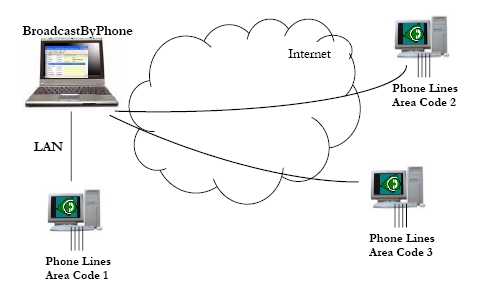 Compared with a centralized solution, this cloud-based, distributed architecture enables virtually unlimited phone lines by adding new system to the network; it offers superb reliability since any failed computer is not going to affect the whole operation. Further, by setting up the system in locations with different area codes, all the calls can be local. Also, since each computer is a mini-broadcasting system, they can be used independently.
Large organizations such as national organizations with local offices, large school districts with many campuses, and large corporations can easily set up such a network.
For individuals and small organizations, Enterprise Edition offers secure remote access, so the system can be accessed from home or office or while traveling. Enterprise Edition contains all the features provided by Professional Edition.