Voicent's Call Center Manager allows a manager or a supervisor to coach an agent during live conversations. The coaching audio is inaudible to customers. To turn on coaching mode, select Manage from the program main menu, then select Whisper Coaching.
Note: Before you can enable Whisper Coaching, you must first start monitoring the agent.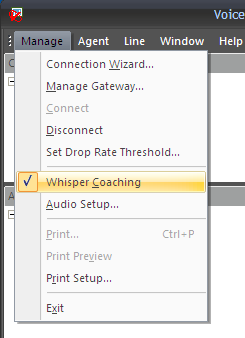 Once set, the icon of the agent or line will show a red border for call monitoring and a black border indicating the manager is in coaching mode. Whenever the agent answers a call, the call conversation audio will be forwarded to the manager, and the manager's audio will be forwarded to the agent but not to the customer.