Fetch Information from a webpage
You can extend Voicent IVR platform by integrating it with web sites or any other software products. There are two basic methods (actions): HTTP or Java. HTTP is the protocol for the Internet. It is best used for web site integration. Java is a general programming language. It can be used to extend Voicent IVR platform with virtually no limit. In this sample, we use the HTTP method.
To create an new action, open the property page (Right mouse click on an element, then choose Properties... from the popup menu.) for the Information element, select the Action tab, then click the New button. (For existing action, choose the Edit button).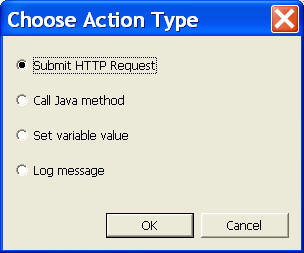 Select "Submit HTTP Request", and click OK. Fill in the following information: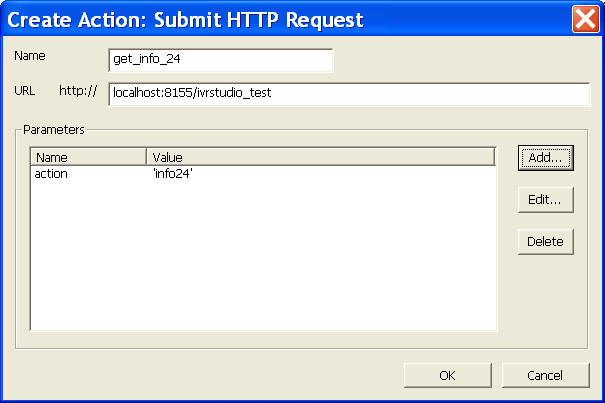 The HTTP action is basically an HTTP POST request sent to the specified URL. In this example, the URL is localhost:8155/ivrstudio_test, and one parameter action (with value equals to 'info24').
The return from the web page must be a list of name value pairs using the following format. Name should not contain space.
name1=value 1
name2=value 2
...
For example, one possible return for this sample might be:
lastUpdated = Sept. 1, 2007 12:00 PM
content = today's mortgage rate is 2% for 30 year fixes
The returned value can be access in the IVR Studio using the dot notation. For example, if the HTTP action is named get_info_24, the the content can be accessed as get_info_24.content. We can use the return value for the prompt.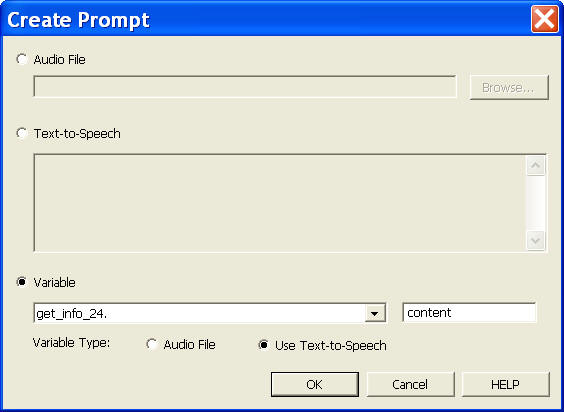 Select the Prompt tab from the element property sheet, click the New button. The dialog window is shown above. You can select action variable get_info_24, and set the parameter as content, and choose Use text-to-speech.