Predictive Dialer Phone Line Connection
Though you can use voice modem for semi-automatic dialing, use voice modem for predictive dialing is not recommended. Voice modem has certain limitations that are not suitable for predictive dialing. We strongly recommend you use VoIP internet phone service for predictive dialing.
The following figures show various ways to connect a modem to a phone line.

You can also use a phone splitter for the connection as follows:

You can also connect to different wall jacks that are using the same phone line: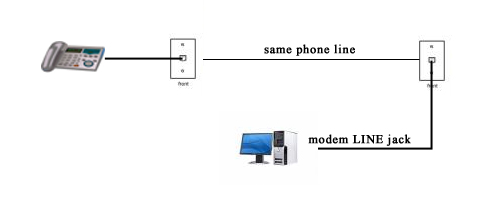 For multiple phone line system, just connect each phone line separately to its corresponding wall jack.
Skype Predictive Dialer