Customize View
You can customize how your calendar view looks in the "View" -> "Customize View..." menu.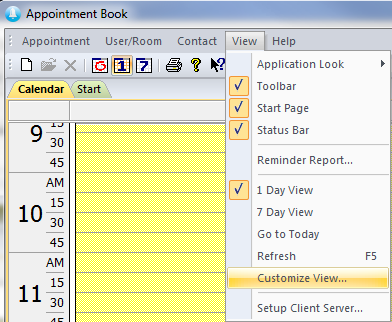 In the new window "Unit Time" refers to the amount of time displayed on the calendar. If you select "60 minutes" then your calendar will split up the current day in 60 minute increments or whichever amount of time you choose.
"Day Start" and "Day End" are your valid appointment times or operating hours. The hours you select will determine which parts of your calendar are lighter and darker, which refer to open and closed times respectively. Please note that you can still schedule appointments during "dark" hours, this setting is a visual setting only. "Lunch Start" and "Lunch End" works similarly, your set lunch period will show up as darker than normal hours but lighter than closed hours. Again, this is purely a visual setting, you can still schedule appointments and reminders during this time.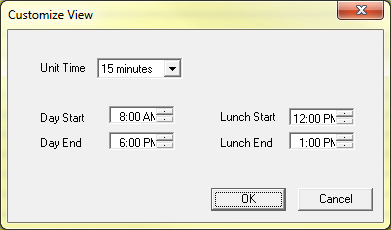 Customize Calendar View
From the "View" menu you can also choose how many days are displayed in the main calendar view. Select "Go to Today" if you are currently viewing a different date to set the calendar back to the current day.