Qualify Leads
The first step in the Customer Acquisition Process is to import and organize all of your leads into Voicent Live. Once your leads have been categorized according to how much information you currently have on them, you can start an auto dialer campaign to automatically test and qualify your leads.
Setting Up an Auto Dialer Campaign
Voicent Live's auto dialer tool empowers you to start a campaign with all of your leads and qualify them automatically, with no additional time spent on your part. It does this by doing much more than just automatically dialing your list. Voicent Live can, without any additional input from you, automatically categorize the leads it calls. Contacts can express their interest (or disinterest) by simply pressing a button. Or, if the callee is very interested, press a button to be transferred to an agent right away, ensuring your company doesn't miss out on any possible sales opportunities.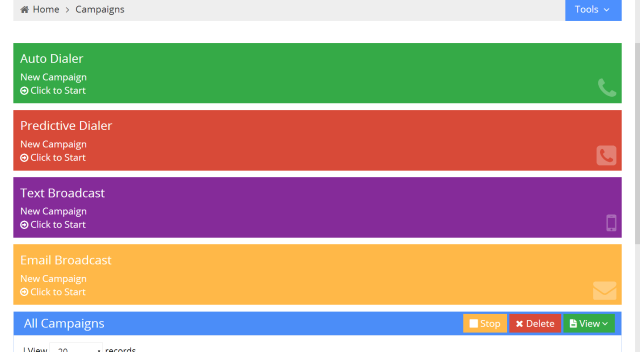 Running an Auto Dialer Campaign
As the campaign runs Voicent Live will organize the campaign results for you. If a customer indicates interest, the number is disconnected, or the contact opts out Voicent Live will alter the contact's CRM record accordingly. This option is highly customizable, if you prefer you can categorize answering machine pick-ups as "junk leads" or encourage customers to press 1 to transfer.
After the Campaign
Once finished, you will be able to easily view and sort your campaign results. For example, if you wanted to run another campaign for everyone who had a voicemail pick up the call, you can do so simply by sorting the results by answering machine pick-up and saving it as a call list. With the campaign done, the leads from the campaign are now qualified. This campaign is a part of the filtering process that goes from "raw lead" to closed sale. With our list narrowed down the next step is to nurture our leads, further filtering out junk leads while bringing our good leads closer to becoming paying customers.